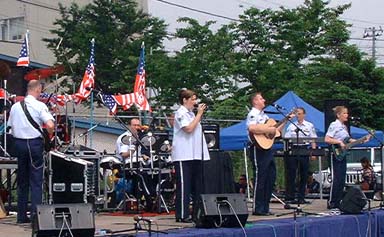 The festivities actucally begin on Saturday. I don't know why they don't include both days when advertising it. Anyway, on Saturday, there will be entertainment and the ever-present festival food booths. Bad Azz Inc will perfrom in the BX Parking lot from 7 - 9pm.
On Sunday, the festivities begin at 9:45AM with the parade. The parade begins at the Max Valur supermarket that is at the west end of the one way shopping street (turn right at the first light outside the main gate and go up three traffic lights). From that point the parade will proceed down the one-way shopping street toward the base. At the traffic light at Sky Plaza, the parade will turn right and continue down to the Civic Center and Central Park (Train park).
Here is a map of the route
.
The opening ceremonies take place at 10:45am at the Civic Center and the entertainment begins at 11am and runs through about 3:30pm outside the main gate at Sky Plaza and the Civic Center area.
The Main Gate will be closed for vehicle operations starting Friday, 21 June, at 3 p.m., and will reopen again for normal operations on Sunday 23 June at midnight. Levitow Gate will be open outbound from 3 p.m. to 7 p.m. on 21 June, and the Falcon Gate will be open 24 hours during the Main Gate closure.
The BX will be closed in the morning/early afternoon of 23 June but will resume normal business hours at 3 p.m. The commissary will be closed 23 June but will be open during weekday shopping hours on Monday, 24 June. The BX and commissary parking lots will be used for static displays on 23 June; please move your cars from these parking lots by 9 p.m. on 21 June, otherwise they will become static displays during the event
The schedule below of events: