The Port Festival opens at 9:30am as the stalls with food and various products open. There is also a mini-aquarium on display. All the fishing boats will be at the docks and you can walk around the harbor. Below is a schedule of events from last year. It usually is the same each year. If I get more info, I will post it.
Schedule of Events:

9:30 - Misawa Special Food booths open
9:30 - Mini aquarium display
10:00 - Parade for good fishing
11:00 - Yasakoi dancing
11:00 - Children's game area
1:00pm - Boat Races (H.S. age and older)
7:00pm - Fireworks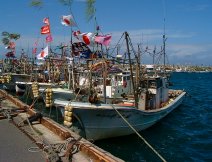 Notes: The Misawa International Center told me that the Yosokoi would be at 11am. Yosakoi is quite entertaining, so I recommend you catch it.
Meanwhile there is plenty to eat and drink. If its a nice day, you can also walk down to Ms. Veedol Beach which is adjacent to the harbor (separated by a sea-wall).
The fireworks are worth seeing. Just be prepared for a lot of traffic leaving the port area.
How to get there: